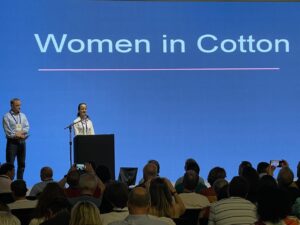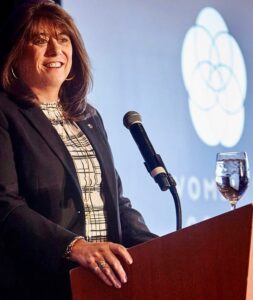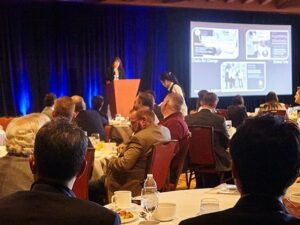 Pictured (left to right): Bill Ballenden and Lidiane Eichelt presenting on Women in Cotton at ANEA's conference
Kim Hanna presenting at ACSA's Annual Convention
Women in Cotton (WiC) received overwhelming support from both ACSA (American Cotton Shippers' Association) and ANEA (Associação Nacional dos Exportadores de Algodão) at their annual events last month, where conference organisers facilitated networking events and presentations from industry representatives who delivered the key messages behind the WiC initiative.
After hosting an industry wide WiC gathering with working group members the night before, Kim Hanna (TransGlobal Inspections and ICA 2nd Vice-President) delivered a short presentation at ACSA's Annual Convention in Lake Tahoe which took place 22-24 June.
Meanwhile in Bahia at ANEA's conference (23-26 June), Bill Ballenden (Dragon Tree Commodity Trading) and Lidiane Eichelt (Olam Agri) also delivered a WiC presentation. Shortly afterwards, they hosted a small get together with women and business leaders from the conference where Bill shared his insights on leadership and diversity.
The support from ACSA and ANEA is a great sign for the potential of the WiC initiative and its impact in the cotton industry.